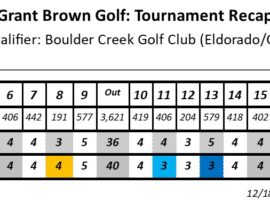 Posted on October 30, 2017 by Grant in My Journey, Tournament Recap.

Overview: Great weather and a great golf course in Boulder City, Nevada. The greens were rolling great. I hadn't seen the front 9 before, but I had played the back 9 five years ago. To move on to the Monday qualifier I needed to place in the top eleven which turned out to be a 5 […]

Continue Reading... No Comments.