Tournament Recap: Phoenix Open Pre-qualifier
Posted on

Grant

on

January 30, 2018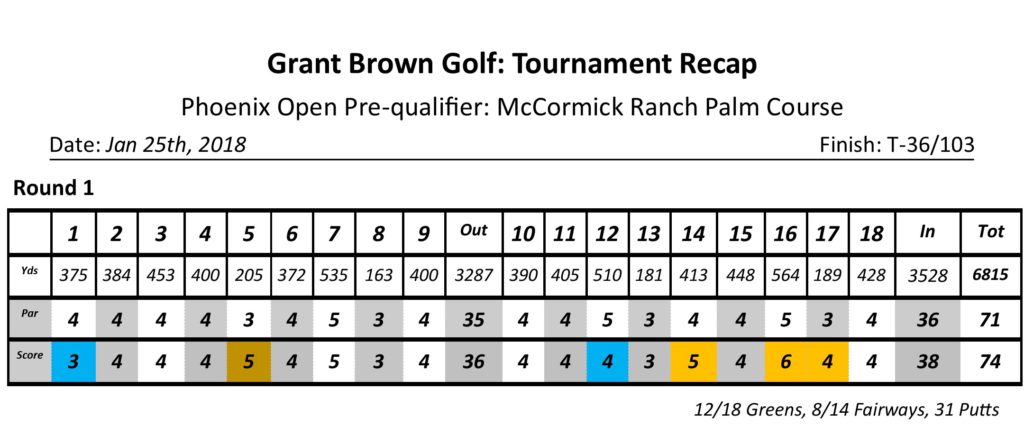 Overview:  It was a nice day with the temperature about 70 degrees and 10 to 20 mile per hour wind. I teed off at 12:20pm and the greens were firm and fast. There are a lot of slopes on the greens and also not much grass around the greens and in the fairways: So there were a lot of lies where my ball was sitting on dirt. Also, the fairways were firm so my drives were getting an extra 10 yards of roll. I played solid except for two missed iron shots on #5 and #17, and two three-putts and a drive out of bounds on number 16.
Highlites:
#1. Driver down the middle into the wind. Then lob wedge from 89 yards to 9 feet and made the putt for birdie.
#12. I aimed into the right rough to have a good angle on my second shot. Then from 245 yards I hit 4-iron into the greenside sand trap. Then splashed out to 6 feet and made the putt for birdie.
#18. Great drive after coming off two bogeys and then hit 9-iron to 6 feet and two-putted for par.
Learning Opportunities:
On #5 and #14 I had downhill 15 foot putts that I hit way past the hole. Each of these putts I needed a much more conservative intermediate target to commit to so my ball would trickle to the hole. Also, on number 16 I talked to my caddy in the middle of my routine and then hit my drive when I wasn't fully focused. Next time I will stop my routine and start over. Also, I missed two knock-down iron shots on #5 and #17. I just haven't hit those shots since I got new irons, so I will go practice them.
Positives: I felt confident all day and birdied the first hole.
Areas to improve: Putting speed control and reading sloped greens. Knock-down iron shots into the wind.