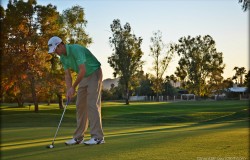 Posted on July 13, 2012 by Grant in Drills, Golf Fundamentals, Practice, Putting.

If you've been a golfer for very long, I'm sure you have learned that "how" you practice is just as important as "what" you practice. Learning the right fundamentals is important, but you also need to have structure when you go to practice. Here are a couple drills that work for me and help to […]

2 Comments. Continue Reading...