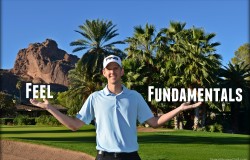 Posted on December 4, 2013 by Grant in Golf Fundamentals, Practice.

Do you know playing golf day after day without practice will hold you back from reaching your potential? You may have flashes of brilliance, but when you look back at your past 5, 10 or 20 years of playing golf, you will realize you hit a plateau because you ingrained the same swing flaws […]

Continue Reading... Comments Off

on Feel or Fundamentals: What's weighing your golf game down?