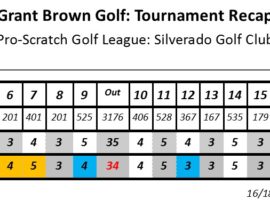 Posted on May 27, 2017 by Grant in My Journey, Tournament Recap.

Overview: It was about 100 degrees with a slight breeze. The greens had just been punched so putting was a little tricky. Highlights: #1: Driver down the middle and then 7-iron to 25 feet for a two-putt birdie. #4: Driver down the right side of the fairway and then pitching wedge to 13 feet and […]

Comments Off

on Tournament Recap: Pro-Scratch Golf League, Silverado Golf Course

Continue Reading...